Why does chocolate make us happy? The Easter weekend is upon us and shops are stocked with chocolaty treats for kids and adults alike, but can the sweet stuff really make us happy? We investigate the key pleasure-inducing compounds in the humble Easter egg. Tryptophan This amino acid is found in small quantities in chocolate and is used by the brain to make serotonin, the neurotransmitter that can produce feelings of happiness. Phenylethylalanine Promotes feelings of attraction, excitement and nervousness and is associated with the initial euphoria of falling in love. It has also been isolated in chocolate. This chemical...
---
Looking for the next greatest toy vending product? It's here!! The Mesh Ball! Super popular item to have in your machines! Great as a toy, even better as a stress reliever! Fill your machines with items kids AND adults want to buy! Order yours today while they are in stock! https://www.abcvendingproducts.com/products/2-mesh-balls
---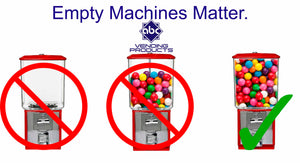 Empty candy machines are a growing problem. Every minute, the heart of a child breaks because there is a candy machine within their reach.....but it sits empty without a single piece of candy left in it. Together we can work to break this vicious cycle. Our selection of bulk candy and toys will help keep your machines full, children happy and profits coming in. Contact us today to learn about how we can spread Empty Machine Awareness (EMA) and how we can help you avoid this tragedy today and always. ABC Vending Products (312) 560-1380 ABCvendingproducts@gmail.com https://www.abcvendingproducts.com/
---
Cleaning should take place every time you refill the machine. The supplies you need are very minimal and can be carried in a small backpack or box, along with new candy and collection bags. Suggested materials and products to carry while servicing your machines are: Disinfectant Spray – Clorox Anywhere, Simple Green or another food safe disinfectant. Paper Towels Plastic Cleaner/Polish Stainless Steel Polish Microfiber Cloths Translucent Plastic Bags – To store equipment without cross contaminating the surfaces Machine Keys & Tools Lubrication Fresh Candy Timing is not always something that is under control when you have multiple stops on...